Olympus is taunting me
*sigh*
So earlier this year Olympus (my camera brand) came out with a new model, the E-30. A great camera, but at €1300 it was simply too expensive so I resisted. Besides, the E-30 was a bit too big for my tastes, I told myself.
Now today Olympus announced the E-620. A camera with most of the features and improvements of the E-30 in a smaller body and at a recommended price of $699.
It will go on sale one day before my birthday.
Olympus is taunting me. This camera has nearly everything I'd want in a camera and would be a stellar upgrade to my trusty E-510 and at $699 it IS quite affordable, except ... except Alien and I are going to Africa for 6 weeks in september-october and we really need to save up our money for that.
Damn you Olympus for bringing out an awesome, relatively cheap camera one day before my birthday at a time that I just can't afford it!
*pouts and goes to read previews, drooling*
I has new lens, yay.
Ordered slightly before my own personal financial crisis became apparent, my new lens arrived yesterday. As some here know I shoot with Olympus and the new lens is from Olympus's "Budget" series (meaning not weather sealed and cheaper than the others, tho this one is definitely the most expensive budget lens in their lineup). At a focal length range of 9-18mm (equiv 18-36mm) this is an ultra wide angle lens.
Here's some fun I had with it yesterday in the center of antwerp:
This is a tricky little lens, not least because I've never shot wider than 27mm equiv and I have to learn all the caveats of UWA on the fly (and there are plenty, from perspective to very tricky lighting).
With this new lens, my kit is now extremely flexible and usable for nearly any picture. My entire kit is (multiply by 2 to get equivalent focal lengths):
9-18mm F/4-5.6 Ultra-wide angle zoom.
14-42mm F/3.5-5.6 Standard zoom kit lens. A nice and lightweight (220gr) carry-around lens.
40-150mm F/3.5-5.6 Tele zoom kit lens.
50mm F/2.0 Macro Very sharp portrait/macro/low-light lens. My favourite.
135-400mm F/4-5.6 Ultra-tele lens. Slightly too heavy and soft for my tastes, but served me well in africa and I like long teles.
FL-36 Flash Guide number 36, rotates around two axis.
Hyperdrive SPACE 250 Gb Photo storage unit
GPS Data logger Lets me sync pictures wth location data
Several extra batteries
58mm and 52mm circular polarizer
The entire kit fits in my camera bag (it's a big bag I admit) and weighs less than three kg (most of that weight is the ultra-tele). It spans 35mm-equivalent focal ranges of 18 to 800 (making it 44X optical zoom) and has everything for indoors, outdoors, macro, portrait etc etc. I'm pretty proud of this kit :)
Right now I have no concrete plans to expand it. Any more lenses now would almost certainly be to replace one I already have. In that aspect I'm drawn towards the 12-60mm standard grade lens to replace my budget 14-42mm (the former is a very good lens optically, and much praised by anybody who's used it) or the 70-300mm budget lens to replace the 135-400mm sigma I have (the former weighs less than half as much and is considerably sharper) but with current finances neither will be happening soon.
World History Fair (Historia Mundi)
This weekend is/was the World History Fair "Historia Mundi" in eastern flanders. Alien and I went to have a little look.
Africa Pictures Week Two finally up
As the topic says, I've finally upped the pictures from the second week of our Africa trip. Find them here.
Spider Webbed Wasp
So I was working in the garden today and came across something I hadn't seen before: a spider (what we call a "kruisspin" = "cross spider") webbing up a wasp that was bigger than itself!
Being a photography enthousiast I quickly grabbed my camera (which, conveniently still had my macro lens on it) and took some pictures.
Warning: Don't follow this link if you're squeesy about bugs or spiders. Link features macro pictures of a spider and a wrapped wasp taken by me. Macro means: They're big. Very big.
A day back in time
This weekend was the "Weekend of experimental archeology" at the archeosite in Aubéchie (a small village in the french-speaking part of Belgium). During this weekend the site is home to a heap of reconstructions from the neolithic and gallo-roman period, like iron age smithies, roman legions, etc etc. Consider it the equivalent of a renaissance fair, but set some 1500 (and more) years further back.
Both Alien and myself took a heap of pictures (me using my new camera (which I got last week)), partly to use as reference for the comic. Here's some of the ones I took:
More pictures: Gallo Roman Weekend
First pictures from the africa trip up
The first pictures from our trip to africa are now up. These are about 150-200 pictures from the first week and includes two of the most impressive wildlife parks in the world: ngorongoro crater and the serengeti. The other weeks should be less impressive since my battery charger died around day nine, limiting the number of pictures I could take.
Here's some of my personal favourites:
New lens
After considerable difficulty I have finally received my new lens on friday: a 50mm/F2.0 (semi)Macro lens (which on my camera magically turns into a 100mm lens, at least as far as angle of view is concerned). I got this lens both because I love macro photography (and close-up filters are simply not the same thing) and also because at F2.0 it is a brighter lens than either of my other ones (which start at F3.5 on the wide end). In fact, 100mm/F2.0 makes a pretty sweet portrait lens (narrow DoF).
I've taken some pictures now, and all in all I'm pleased. It's not a true macro lens (1:2 magnification which only becomes 1:1 with crop factor) but it's sufficient (I've ordered a macro extension tube to improve it). As I expected it makes a good portrait lens, and is even indoors fast enough to capture my little niece (5 year olds simply have no understanding of motion blur). It's a sharp lens and while the autofocus can be a bit sluggish at times, it seems very accurate once it makes up its mind.
Below are some of the macro pictures I took today in a nearby flower garden. Warning: bugs!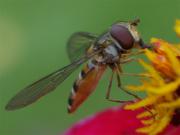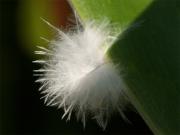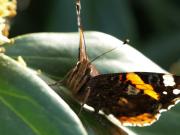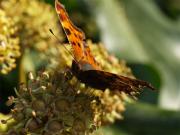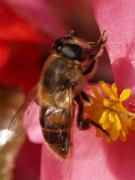 Lizzards
I was going through some "old" pictures (read: taken a month ago or so with my new camera) and came across these. I'm quite proud of them:
Zoo pictures
I took my new camera to the Antwerp zoo in the weekend (where Alien and I have a one-year pass now) to take some pictures. The results can be found in an all-new category in my picture gallery.